hola bloggers!

Después de una increíble noche,a pesar de la victoria del barça, he vuelto.


Quería dejaros una información que me apetecía recopilar de dos chicas magníficas antes de este comienzo de semana en el que no sé cada cuanto podré actualizar este bonito sitio.

Nuestra it girl por excelencia, nuestra chica pop, la más indie...
Alexa Chung! con 26 años, profesión : presentadora de tv, sus firmas fetiche son chanel, miu miu, Isabel Marant y el LOW COST de TOPSHOP,LEVI´S Y APC.


Su estilo como ya hemos comprobado un millón y medio de veces se decanta por el innovador trendy con un toque pop, no haciéndole sombra a su querido Alex Turner por supuesto.
Y algo sobre ella... fue descubierta como modelo en un festival, MTV acaba de cancelar el show que presentaba y ha inspirado un bolso de MULBERRY.

Y ahora cerrar esto hablandoós de los"iconos teen", Blake Lively y Leighton Meester.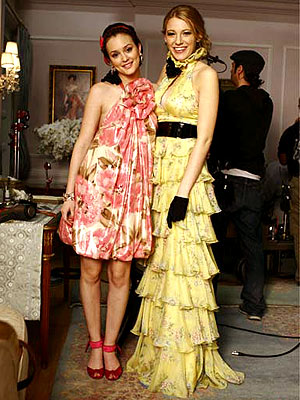 Tal vez sea el protagonismo de la moda o el listón de sus estrellas( Blake Lively y Leighton Meester, it girls que tienen a NY fascinado), pero lo cierto es que el culebrón adolescente Gossip Girl es el "placer culpable" absoluto, y mañana ya tendremos otro capítulo de esta innovadora temporada colgado en la web. Los fans de Lively la verán pronto en "Las vidas privadas de Pippa Lee", y el año que viene estrenará "Green Lantern", donde se embutirá su primer traje de heroína de comic.




Que mañana tengáis un buen día chicos, suerte!

H.B.

.............

hello bloggers!


After an amazing night, despite Barca's win, I'm back.




I wanted to leave you with information that I wanted to collect two gorgeous girls before the beginning of this week that I do not know how often I will update this beautiful site.


Our ultimate it girl, our girl pop, indie ... more http://img.trendencias.com/2010/01/alexa-chung.jpg


Alexa Chung!
26 years old, occupation: tv presenter, their signatures fetish are chanel, miu miu, Isabel Marant, and LOW COST Topshop, LEVI'SY APC.


http://wesewfashion.files.wordpress.com/2009/11/alexa-chung2.jpg

His style as we have seen a million and a half times the innovator opts for trendy with a touch of pop, not making his dear shade Alex Turner of course.

And something about her ...
was discovered as a model at a festival, MTV has just canceled the show that had and has inspired a MULBERRY bag.
And this is speaking to you now close the "teen icons", Blake Lively and Leighton Meester.


Perhaps the role of fashion or the bar of its stars (Lively Blake and Leighton Meester, it girls that have fascinated NY), but the fact is that the teen soap Gossip Girl is the "guilty pleasure" absolute, and tomorrow
we will have another chapter of this innovative web-hanging season.
Lively fans will see it soon in "Private Lives of Pippa Lee", and next year will premiere "Green Lantern", which countersink first comic heroine costume.


Tomorrow you may have a good day guys, good luck!


H.B.
.................
Bonjour les blogueurs!


Après une nuit incroyable, malgré gagner Barca, je suis de retour.


Je voulais vous laisser avec l'information que je voulais recueillir deux magnifiques filles avant le début de cette semaine que je ne sais pas combien de fois je mettrai à jour ce site magnifique.


Notre fille ultime, il, notre fille pop, indie http://img.trendencias.com/2010/01/alexa-chung.jpg ... plus


Alexa Chung!
26 ans, profession: présentateur de télévision, leurs signatures sont chanel fétiche, Miu Miu, Isabel Marant et un faible coût Topshop, LEVI'SY APC.


http://wesewfashion.files.wordpress.com/2009/11/alexa-chung2.jpg

Son style que nous avons vu un million de fois et demie le opte innovateur pour la mode avec une touche de pop, ne fait pas l'ombre de son cher Alex Turner, bien sûr.

Et quelque chose à son sujet ...
a été découvert comme un modèle à un festival, MTV vient annulé le spectacle qui a eu et a inspiré un sac Mulberry.
Et cela vous parle maintenant fermer les icônes "teen", Blake Lively et Leighton Meester.

Peut-être le rôle de la mode ou la barre de ses étoiles (Blake Lively et Leighton Meester, il les filles qui ont fasciné NY), mais le fait est que l'adolescent savon Gossip Girl, c'est le plaisir «coupable» absolue, et demain
nous aurons un autre chapitre de cette saison innovantes Web pendaison.
Lively fans qu'on le verra bientôt dans "La vie privée de Pippa Lee", et l'année prochaine sera présentée en première «Green Lantern», qui lamage premier costume héroïne comique.


Demain vous pouvez avoir un gars bonne journée, bonne chance!


H.B.


............
.
que alguien me lleve a Nueva York ,porfavor!
.