hola bloggers!
Después de tanto tiempo de un lado a otro ,he vuelto.
El pasado y esperado día de San Juan ,mis amigos y yo decidimos trasladarnos hasta una zona en la costa viguesa llamada Panjón, nos lo pasamos genial, muy buen ambiene y perfectamente recomendable!



Dos días después mi compañera de viaje(la señorita B.D.O.) y yo tomamos rumbo hacia Cambados ya que fue la celebración de cumpleaños de un amigo nuestro.
Unos buenos días,sí señor.


Os dejo aquí tres tendencias y un cambio de papel en transformers!
Botas en verano
Hay que estar preparadas para el cambio climático... Y para ello, las 'celebrities' tienen la mejor de las soluciones: los ya clásicos 'shorts' se llevan con botas.

De la mano de José Miró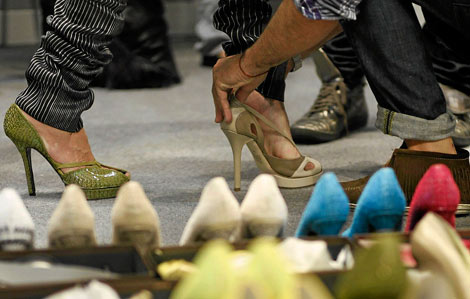 Bailarinas con dos centímetros de tacón invisible para combinar con todo, bien con shorts, bien con vestidos mini.

¿Sucesora de Megan Fox?
La 'top' de Victoria's Secret Rosie Huntington será la nueva actriz de 'Transformers 3', después de que el productor de la saga decidiera no contar más con los servicios de Megan Fox. Una buena elección que aplaudimos, sólo sea por el estilazo de este 'ángel' que nace como estrella del cine.

Verano de plataformas
Las sandalias con enormes plataformas invadirán la calle este verano. Perfectas para llevar con los básicos más tendenciosos de la temporada, como los 'shorts' o los 'minivestidos', serán las grandes protagonistas de nuestros pies.

Estos días me toca pensar en destinos de vacaciones ya que me reclaman mis elecciones... he pensado en dejarme caer por Londres con mi madre unos días para poder visitar liverpool street y hacer recadillos por allí; y por otro lado creo que mi sitio preferido en el mundo podrá volver a gozar de mi presencia unos días en agosto con mi padre,nunca me cansaré de ir.
En las fiestas del Albariño este año tendremos a un gran grupo catalán ,el día 28, muy famoso en el mundo indie-alternativo ,Love of Lesbian.
Hoy me he fijado que en el videoclip de nuestros amados neoyorkinos Vampire Weekend en su canción:"Giving Up The Gun", aparece jugando al tenis Joe Jonas!, una pequeña curiosidad para vosotros,mis lectores "los insaciables".
Os actualizaré estos días, que ya estoy libre para vosotros!
xoxo
H.B.
_._:_:_:_:_:_:_:_:_:_:_:_:_:_:_:_:_:_:_:_:_:_:_:_:_:_:_:_:_:_:_:_:_:_:_:_:_:_:_:_:_._
hello bloggers!
After so long on one side to another, I'm back.
The past and expected day of San Juan, my friends and I decided to move to an area on the coast called Panjón Vigo, we had a great, very good and perfectly ambiene recommended!

Two days later, my traveling companion (Miss BDO) and I took direction to Cambados because it was the birthday celebration of a friend of ours.
A good morning, yes sir.

I leave here three trends and a changing role in Transformers!

Summer Boots

We must be prepared for climate change ... And for that, the 'celebrities' have the best solution: the now classic 'shorts' worn with boots.
From the hand of Jose Miro

Dancers inch heel with invisible to match all, along with shorts or mini dresses.

"Successor of Megan Fox?

The 'top' of Victoria's Secret Rosie Huntington is the new star of 'Transformers 3', after the producer of the series decided not to rely more on the services of Megan Fox applaud a good choice, only because of the estilazo of this 'angel' that arises as a movie star.

Summer platforms

The huge platform sandals invade the streets this summer. Perfect to wear with the most basic trends of the season, as the 'shorts' or 'mini-dresses', will play the lead in our feet.


These days I have to think about holiday destinations and I claim my choices ... I thought let me down in London with my mother a few days to visit and make recadillos liverpool street there and on the other hand I think my favorite place in the world can again enjoy my presence a few days in August with my father I never tire of going.

The Albariño festivals this year we will have a great Catalan group, the 28th, very famous in the world indie-alternative, Love of Lesbian.

Today I noticed that in the video for our beloved New Yorkers Vampire Weekend in their song: "Giving Up The Gun", playing tennis appears Joe Jonas!, A little curiosity to you, my readers "insatiable."

We will update these days, that I'm free to you!

xoxo

H.B.

_:_:_:_:_:_:_:_:_:_:_:_:_:_:_:_:_:_:_:_:_:_:_:_:_:_:_:_:_:_:_:_:_:_:_:_:_:_:_:_:_:_:_
Bonjour les blogueurs!
Après une si longue d'un côté à l'autre, je suis de retour.
La journée passée et prévue de San Juan, mes amis et moi avons décidé de passer à une zone sur la côte appelée Panjón Vigo, nous avons eu un grand, très bon et parfaitement ambiene recommandé!

Deux jours plus tard, mon compagnon de voyage (Miss BDO) et j'ai pris la direction de Cambados parce que c'était la fête d'anniversaire d'un ami de la nôtre.
Un bonjour, oui monsieur.

Je pars d'ici trois tendances et l'évolution du rôle dans Transformers!

Bottes d'été

Nous devons être prêts pour le changement climatique ... Et pour cela, les célébrités »ont la meilleure solution: le désormais classique 'shorts' portés avec les bottes.
De la main de José Miro

Danseurs pouces avec talon invisible pour correspondre à tous, avec un short ou mini robes.

"Successeur de Megan Fox?

Le «haut» de Huntington Victoria's Secret Rosie est la nouvelle star de 'Transformers 3', après que le producteur de la série a décidé de ne pas s'appuyer davantage sur les services de Megan Fox applaudir un bon choix, seulement à cause de la estilazo de cette «ange» qui se pose comme une star de cinéma.

plates-formes d'été

Les sandales vaste plate-forme envahissent les rues cet été. Parfait pour porter avec les tendances les plus élémentaires de la saison, comme le short »ou« mini-robes, jouera le rôle principal dans nos pieds.


Ces jours-ci je pense que sur les destinations de vacances et je revendique mon choix ... J'ai pensé me laisser tomber à Londres avec ma mère quelques jours pour visiter et faire de la rue Liverpool, il recadillos et d'autre part je pense que mon endroit préféré dans le monde peuvent à nouveau profiter de ma présence quelques jours en août avec mon père Je ne me lasse d'aller.

Les festivals Albariño cette année, nous avons un excellent groupe catalan, le 28, très célèbre dans le monde indie-alternative, Love Of Lesbian.

Aujourd'hui, j'ai remarqué que dans la vidéo pour notre bien-aimé New-Yorkais de Vampire Weekend dans leur chanson: «Giving Up The Gun", jouer au tennis apparaît Joe Jonas!, Un peu de curiosité à vous, mes lecteurs «insatiable».

Nous mettrons à jour ces jours-ci, que je suis libre à vous!

xoxo

H.B.

;)